Home
Bahamas Fishing Video
This is a video from a Florida to the Bahamas fishing trip we went on in 2000. I had just bought a Donzi fishing boat I found on the Internet.

The trip was in November and while the trip across the Gulf Stream was quiet, on the way back a norther decided to blow in and it was pretty ugly getting back across to Florida.

We caught some great fish and really enjoyed having them prepared by Roscoe back at West End.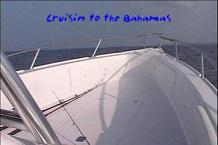 Windows Media (6MB).

Fishing was fun, but now we are more into sailing. Having the gas bill go from $600 per fill-up to $0 is an added bonus.